PFLA News
Sowing and Growing: Q&A with Sylvan Vale's Iola Elder
Iola Elder is co-owner of Sylvan Vale Nursery in Black Creek, BC on Vancouver Island. How did Sylvan Vale become such an integral part of the reforestation program in Coastal BC? Iola Elder explains.
Q/ Your parents started Sylvan Vale Nursery and it has been run by your family and extended family since the beginning. What did the early days of Sylvan Vale look like?
A/ My parents emigrated from Great Britain, where my father worked in reforestation. My parents came to Canada in the mid 1960's and, like a lot of European immigrants, found work in the forest industry. My dad started at a government-run reforestation nursery.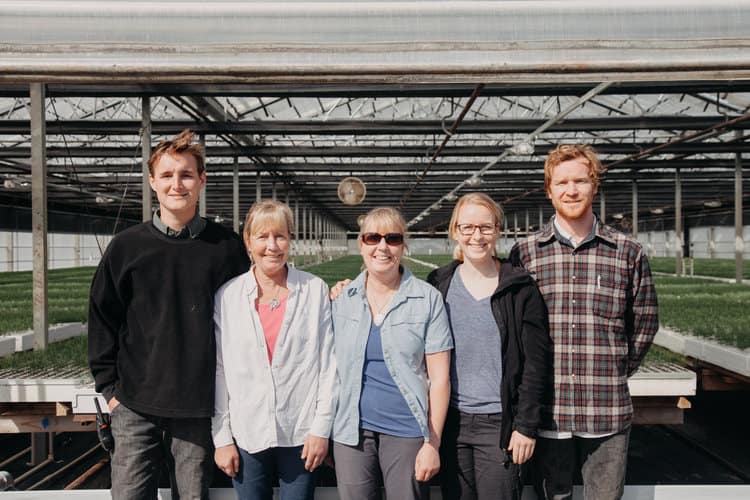 Q/ How did Sylvan Vale gain its footing in Coastal BC?
A/ Before 1980, seedlings for reforestation on Crown land had to be grown in government operated nurseries. That legislation changed in 1980, which opened the door for private nurseries like Sylvan Vale. Today, our customers are forest companies both big and small, that operate on Crown and private forest land mainly on Vancouver Island, but as far away as Alaska.
Q/ Did you know from an early age that you would be involved in running the nursery?
A/ No, not at all. Obviously, we grew up in the nursery business, but did we have any idea that we would end up doing what we do now? No, I think we were just lucky enough that the timing was right when my parents started it. My sister Siriol and I were 20 years old and not really sure what we were going to do. I think my dad said, well, why don't you take horticulture? We did and were lucky enough to have an opportunity in the industry in the right place at the right time.
Q/ Sylvan Vale's focus is on growing seedlings. How do you source the seeds?
A/ We don't normally do the seed collection. Most larger forest companies have their own seed, either through collection or some have their own seed orchards. For smaller companies, we buy seed from one of the larger companies.
Q/ The annual schedule for growing and harvesting seedlings at the nursery is cyclical and very busy. Do you ever have down time?
A/ Actually, yes, we do! We have wonderful staff that have stayed with us for many years so that's critical. And we rely more now on technology to ease the workload. For example, we can monitor climate control systems remotely on our phones and laptops from home.
Q/ What impact has the Covid pandemic had on your business?
A/ We were bracing for a slow-down but the opposite has happened. Demand is very high, partly because of the rush on home construction and home improvement. Our landscaping clients are also busier than ever. And there are a number of carbon initiatives underway that are keeping us busy.
Q/ What advise do you have for a smaller forest landowner preparing a reforestation plan?
A/ Plan ahead. Think about what you need to replant even before you harvest. Order the best available seed well in advance. It takes a seedling a year to grow in the nursery before it can be planted.
For more information about Sylvan Vale, visit https://www.svnltd.com