PFLA News
Preparing For Wildfire Season
2021 Wildfire Season Forecasting
As forest landowners are preparing their wildfire response strategies for the coming season, many are wondering just what kind of wildfire season we're in for? Environment and Climate Change Canada's online forecasting models are publicly available and useful tools for wildfire forecasting.
So far this year throughout much of BC, conditions have been 'Below Average' according to Environment and Climate Change Canada's Forecast Severity Anomaly map. This map shows which regions are predicted to be above or below the regional climatological average for a particular month.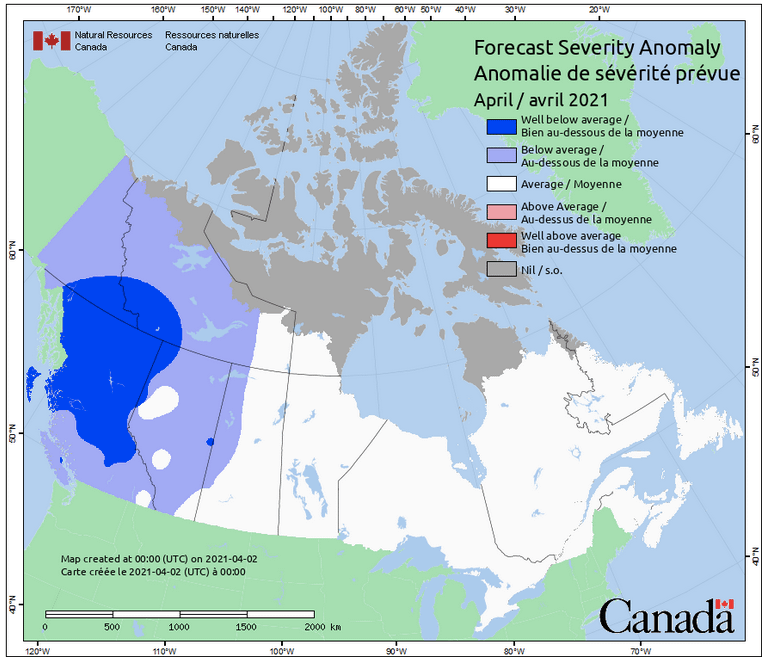 The Forecast Severity Anomoly information is a useful indicator of variations from one season to another but does not indicate which regions of Canada are predicted to have above average fire seasons. For that, Environment and Climate Change Canada publishes a monthly Forecast Severity Rating map.
The Forecast Severity Rating for April 2021 shows a 'Low' wildfire severity rating throughout Canada. But jump to July 2021 (forecast maps can be selected by month), and the map shows a forecast for 'Very High' to 'Extreme' wildfire severity this summer. Keep in mind that these are forecasts and subject to change, but they are useful planning tools to add to your wildfire preparedness toolbox.